Dear bitcoiner,
After every crypto crash, more crypto participants turn to bitcoin and become Bitcoin Maximalists. 
What is a Bitcoin Maximalist? What kind of beliefs do they have in common? 
More in our latest Virtuse News. 
Make sure to subscribe (and join the 15k+ others who have done so) to receive Virtuse Report in your inbox every week! 
If you enjoy this content, you will also love what we post on
Twitter (@virtuseExchange) and on our Instagram channel @virtuseglobal
Let's get it started!
Ras Vasilisin

In the midst of a bear market, after an enormous crash in which several major reckless mismanaged tokens have been wiped out, more crypto participants turn to bitcoin and become bitcoin maximalists. 
All of this raises the question of what precisely a bitcoin maximalist is. 
Bitcoin maximalist believes with unwavering conviction that bitcoin is the only digital asset people need in the future and that all others are inferior to bitcoin.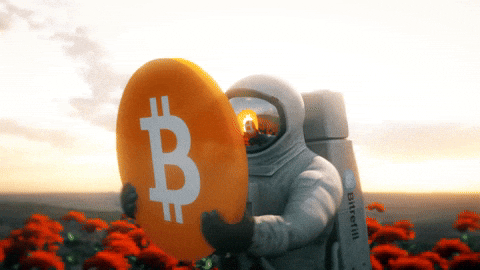 While some maximalists assert that altcoins are just unregistered securities, most consider them technically and morally questionable, if not outright scams. 
For the most part, however, most bitcoin maximalists are united in the following ten beliefs.
Bitcoin must be safeguarded for future generations
Bitcoin maximalists believe that bitcoin is the unique global, digital alternative to centrally-controlled economies. Thus, it can offer genuinely decentralized, non-inflationary money in the future, and it is ultimately positive for bitcoin users and humanity.
In this view, bitcoin maximalism's foremost goal is to help other users secure bitcoin and the bitcoin network for future use.
Maximalists feel that the digital asset's open-source architecture makes it revolutionary regardless of bitcoin's price.
Fiat currencies are reckless and mismanaged
Many bitcoin maximalists believe that the state-run fiat currencies are not sound money and some even think they are pyramid schemes or "scams in disguise." 
In other words, the strict maximalists believe that bitcoin is by far the best currency in the world and the only one that can protect consumers from the monetary policies of central banks, which are aimed at serving the interests of the political class and oligarchs. 
Blockchain is an essential part of bitcoin
Another thing that bitcoin maximalists believe is that blockchain is an inseparable component of bitcoin. 
Although blockchain technology has been around for 30 years, the only successful use case for blockchain is part of the system designed for bitcoin. Any other use case that people tried to apply with blockchain technology ran to only one conclusion that it's just a slow and expensive database. 
Fidelity had a team from 2015 to 2019 that tried to find the use cases for blockchain technology. They submitted 50 proofs of concept. They proved nothing, and in the end, they shut it down and became one of the biggest proponents of bitcoin. 
As Fred Ehrsam, founder of Coinbase, said, "I think the whole narrative of blockchain without bitcoin will amount to very little."
Open-source software is key
Bitcoin maximalists believe that the defining feature of the bitcoin network is the ability of all users to audit its money supply and history of transactions by running software.
As the father of bitcoin, Satoshi Nakamoto, said, "Being open source means anyone can independently review the code. If it was close source, nobody could verify the security."
In other words, bitcoiners believe that open-source software is key to its decentralization and keeping the network free from fraud. 
As such, they seek to encourage others to run the bitcoin software and create tools and programs that ease the barrier to entry.
Conservative approach to change
Bitcoin maxis see bitcoin as an almost perfect version of digital gold and that this invention does not require significant improvement.
Therefore, they believe technological change should be a slow and deliberative process. Thus, they believe that cryptocurrencies that upgrade their software frequently risk marginalizing small and favor larger investors and users. 
A great example of this is Ethereum's transition to the proof-of-stake, which merely recreated the fiat system, where those with the most money get to control the system.
Caution in building products and services on top of Bitcoin
Be that as it may, bitcoin maximalists acknowledge entrepreneurs will continue to develop products and services for bitcoin users, which operate outside of the bitcoin software but seek to hold these businesses to a high standard. 
For example, advances in this area have included multi-signature wallets, allowing users to divide their bitcoins between high-security vaults, in which users can trust other parties to help them secure their bitcoin.
However, Bitcoin Maximalists believe that crypto services that seek to profit from the custody of their user's bitcoin can pose a real risk to users. As the recent collapse of Celsius or Voyager shows. 
Encourage the use of payments systems
Bitcoin maximalists seek to extend the bitcoin as digital gold and store of value to the domain of digital cash. 
In other words, they seek to encourage businesses to accept bitcoin as a payment system and grow the bitcoin economy to the greatest possible extent. 
The best example of this is the Bitcoin Lightning Network, open-source software built on bitcoin that enables users to send payments at a low cost at the speed of light anywhere on the planet. 
In sum, maximalists respect the right of users to decide when and where to use bitcoin and use it to increase the activity of the bitcoin network.
Protect the censorship-resistant properties
Bitcoin maximalists are highly critical of any company or service that would seek to monitor users or increase the surveillance of the bitcoin system. 
They consider Know-your-client (KYC) and anti-money-laundering (AML) directives as global surveillance apparatuses that keep billions without access to banking and stifle innovation. It's a system more damaging than the problems they are trying to solve. 
Maximalists accept that the KYC/AML enforcements are not going away anytime soon. Governments rarely relinquish their powers voluntarily.  However, they believe that bitcoin is an excellent way to present a technology that doesn't need to ask a banker or government for permission to protect the wealth. 
Proof-of-work, not proof-of-stake
Bitcoin's most important quality is that it is fully decentralized, making it the single most secure computer network in the world. This decentralization and security are accomplished via the proof-of-work mechanism.
They understand that proof-of-work is essential to the operation of the network and believe there are no alternatives to this system. 
This is because they believe proof-of-work is the only consensus method by which a digital asset can be distributed to anyone in the world without the permission of any group.
In short, bitcoin maximalists believe that proof-of-work is so essential it should be supported by any means.
Open to all
Bitcoin Maximalists believe that every person in the world should have access to sound money independent of corrupt governments and corporations that does not require trust or permission to spend or save, and that increases in purchasing power over time.
They believe that the financial system and money should be used by all people regardless of race, religion, nationality, or how much money they have. 
Thus, maximalists seek to inform and educate people worldwide about the benefits of bitcoin when possible, assuming that everyone can benefit from the use of bitcoin. 
There's a related concept referred to as hyperbitcoinization, which, if it were to occur, would see the world shifting to a bitcoin standard, in which all goods and services are priced in bitcoin.
Truly decentralized properties
Maximalists believe that the fact that bitcoin lacks a central leader is one of the most notable features. That is to say, the fundamental principle of bitcoin is decentralization, along with permissionless, peer-to-peer transactions.
No pre-mine, ICO, director, office, issuer, or central authority existed. Instead, there is simply the conversion of energy into sound money through a proof-of-work mining process.
Final thought
In essence, these are the shared ideas of bitcoin maximalists. 
Maximalists agree that bitcoin will be the most valued, trusted, and ubiquitous form of money in the future. 
Bitcoin has established itself as digital gold. And just like gold built up the modern financial system through the gold standard, bitcoin will build a new, more inclusive financial system through the bitcoin standard and become the "digital gold" of the future.
It's now up to bitcoin maximalists to build it.