As the crypto winter bites deeper, on-chain metrics suggest that confidence among Bitcoin whales has far from waned.
The leading cryptocurrency is currently trading under $20,000, down 35% year-to-date, and down as much as 71% from its all-time high of about $69,000 in November last year.
During massive sell-offs like this, many investors liquidate their positions. This, however, does not appear to be the case when it comes to those who hold more than 1,000 BTC.
Fresh data from IntoTheBlock indicates that this demographic has actually continued to accumulate cheap coins despite bearish prices.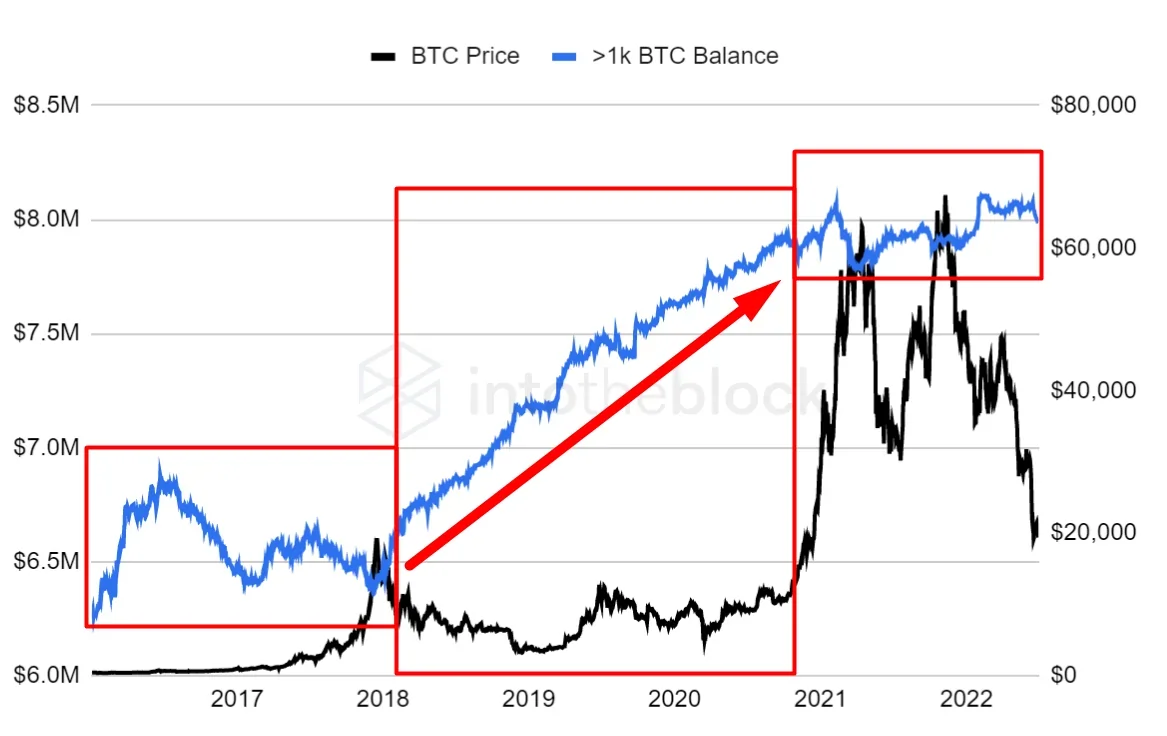 "In the last multi-year long bear market Bitcoin whales took advantage to accumulate at a high pace, as pointed out by the red arrow in the chart," Juan Pellicer, research analyst at blockchain analytics firm IntoTheBlock, told Decrypt.
Pellicer, however, pointed to the fact that even though whales' balances continue to grow, "so far we don't see them doing it with the same intensity of the last bear cycle."
Earlier this week, blockchain analytics Glassnode also said that whales are adding to their balance aggressively, acquiring 140,000 Bitcoin per month directly from exchanges.
Currently, whales own as much as 8.69 million BTC, or 45.6% of Bitcoin's total supply of 21 million, according to Glassnode.
Bitcoin bull market in sight?
Whales buying Bitcoin at cheap prices could theoretically signal a return to a new bull cycle.
Still, when asked about the probability of such a scenario, Pellicer said there are no "clear on-chain structures that point out to a very fast market recovery."
There are some positive aspects though, he added, pointing to persistent confidence among retail Bitcoin investors—holders with balances between 0.1 and 1 BTC—who "are taking advantage of the market drop to accumulate at a larger pace than usual."