Yesterday, the BLS released the latest consumer price inflation readings and it wasn't pretty. Headline CPI came in at 8.2% year over year with core CPI at 6.6%. Each of these figures exceeded expectations. This is concerning because the Federal Reserve has been hiking interest rates 75 bps at a time throughout the summer months and is expected to do so again in a few weeks: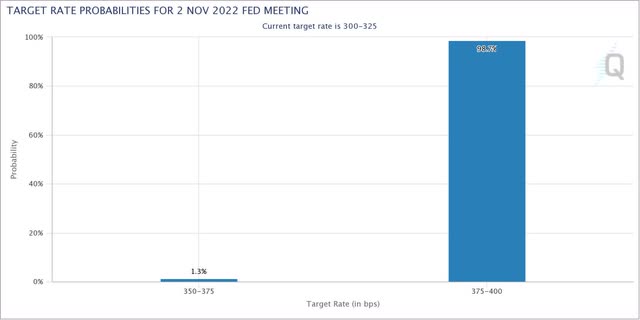 It is the hope of the central bank that this next hike will be the one that the accomplishes what others have failed to achieve; namely, reflect a meaningful reduction in consumer price inflation data. The response to the August CPI reading was a massive selloff across broad risk markets that took down equities, metals, and crypto. That selloff was the market seemingly coming to grips with the idea that the Fed couldn't justify a rate hike pivot at the last FOMC meeting. Given that, it would stand to reason that yesterday's higher than expected CPI reading would have resulted in the same response, yet that did not happen.
While it has given back some of its gains from yesterday's pop, Bitcoin (BTC-USD) is still ahead of where it was before the CPI reading at 8:30 am on Thursday. This raises the question about whether the top crypto by market cap is indeed an inflation hedge after all. Bitcoin has gone through numerous narratives changes over the last few years:
To most, each of these narratives are probably absurd but I think there is one that actually might hold some weight. If we accept that the market is forward looking, then it isn't unreasonable to give Bitcoin some credit for front-running the high CPI readings over the last year and a half.